Next Faceting Workshop

  MARONG  


17th - 20th November 2023.

The next Faceting Workshop will be held at Marong in the heart of Victoria.
The Workshop will be held at the Marong Community Hall, 36 Torrens St, Marong VIC 3515.

Marong is located 157 km NW of Melbourne, and only 17 km West of Bendigo.
Who we are
About the Victorian Facetors' Group Inc.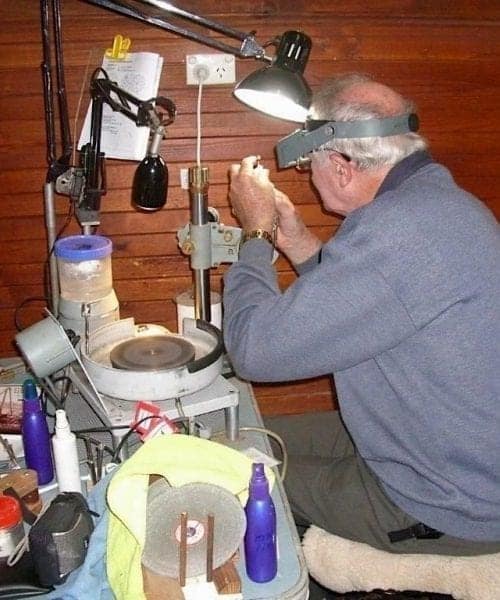 35+ Years of Faceting Experience
Our History goes back some 35 years when a dedicated team worked tirelessly to create the foundations of how we operate today. The current successful quarterly workshop format was adopted at Beechworth back in 1989. The experience that our facetors have gained over the years is simply priceless.
Our Contrast &
Our Differences
Fees - (AU$)
Our Plans
You will be delighted to hear that our membership plans cater for people of all ages, from 16 years and upwards. Our Annual Membership Fees are kept very affordable and are renewable each year. Annual membership entitlements include a copy of the quarterly newsletter, 'MeetPoint'. A small workshop fee is payable to help cover the cost of hall hire for those attending our Workshops.
Adult

$30

If you are the only adult in the family who wishes to become a member, then this is undoubtedly the most cost-effective way to go. Please check out our other membership plans options too.

Joint Membership

$50

Joint Membership is the best choice if you wish to join with your spouse or partner. The quarterly newsletter will be shared as you're living at the same address. Additional Adults may join at a discounted rate.

Student

$15

Our Student Plan offers an affordable solution for students, and children of 16 yrs and over. We also encourage families with younger children. So, please contact us, and we will be delighted to help.
Our Events
Upcoming Workshops and Competitions
Our Member's
Testimonials
Our Members have always had wonderful things to say about the Victorian Facetors' Group Inc. Here is just a glimpse of what they are saying about us, and our workshops.
This could be you. If you would like to have your Testimonial appear here for others to see, then please kindly contact us and we'll be happy to assist you.
VFG is a friendly group of people. Always willing to help and share information on all levels. I always look forward to the Workshop weekends which are held four times a year. These workshops always end up being lots of fun.
We have been members since the formation of the Victorian Facetors Group. We enjoy the social experience, meeting up with Facetors and partners from Victoria and beyond. The quarterly workshops allow members to exchange ideas on faceting. Our competition results have improved, and we have enjoyed fossicking for rough and now turn them into lovely gems.
We have always found the VFG a great group of people, friendly, willing to pass on information, one big happy family. The first workshop attended was at Kilmore and have been attending workshops ever since. Thank you to all members past and present, you have added quality to our life and lifetime friends.
I've been a member of many Clubs and voluntary organisations over the years. However, until I joined the VFG, I had never experienced such a refreshing attitude to faceting semi-precious gemstones. The friendliness of members and the willingness to share information and help new members attending their first workshop has been exceptional.
Our Faceters with Outstanding Awards
Did you know that 'competitions' provide an excellent opportunity to improve your skills at faceting? We offer a vast range of carefully crafted competitions to do just that. A testament to this is that our members are continually winning many Faceting Awards around the country. These Awards range from International, National, State, and even Club level Competitions. It is so pleasing seeing so many VFG members amongst the names of the winners of Faceting Awards and Trophies. These Awards have certainly put the VFG onto the map!
Contact us for more Information