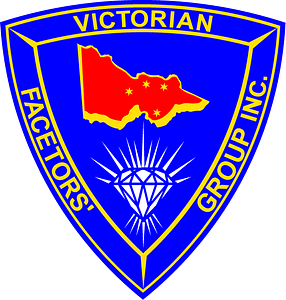 The Victorian Facetors' Group Inc. (VFG) is a self-governing, and not-for-profit Group for those who share a common interest in faceting gemstones. Also, we run on a voluntary basis by members, for members.
The Groups Main Objective is to give as many members as possible the chance to attend a workshop, also to get together with like-minded facetors in a very supportive and welcoming environment.
Membership approaching the 100 mark
With an active membership now approaching the one hundred mark, the VFG Membership is a truly precious resource for all facetors throughout Victoria. (from the novice to the most experienced) This resource also provides members with practical help in cutting, machine knowledge and maintenance, cutting diagrams and Gemcad, and many other aspects of faceting.
The Group meets four times a year in different locations across Victoria holding 4-day (two full and two half-day) faceting workshops. We believe that these workshops offer such a unique experience, which is why they've become so successful over the years.
Many aspects of gemstone cutting and polishing on a gemstone faceting machine create the ideal topic for Group discussions at our Workshops.
Warm and Friendly Atmosphere
Our workshops provide a warm and friendly atmosphere, where members generally do their own thing. While some members often do their designs and material while faceting, others may choose to cut a specific stone for that particular workshop.
Newsletter & Competitions
 We produce an informative quarterly Newsletter for members. Also, we encourage our members to participate in our Annual Faceting Competitions. These Competitions help members to develop and improve their cutting skills through knowledgeable and unbiased feedback with standardised judging assessment.
As well as the all-important faceting, members also enjoy the social aspect of the workshop weekends. These include friendly barbecues, quizzes, and of course, the Christmas Activities at the Marong Workshop, which are always very popular.
Please click the button below, to learn more about the early History of the Group.