17th to 20th November 2023
The Marong Workshop is held at the Marong Community Hall, 36 Torrens St, Marong VIC 3515.
From Melbourne: Take the Calder Hwy towards Bendigo. At Ravenswood, turn left onto the A790 heading towards Marong & Mildura. In the centre of Marong, turn left onto the Calder Hwy, heading towards Mildura. 
The Big 4 Caravan Park is approximately 300 metres on the left, and Torrens Street, where the Marong Community Hall is located, is on the right, almost opposite the Caravan Park.
Big 4 Bendigo Marong Caravan Park, 1449 Calder Highway, Marong, 3515. Phone: (03) 5435 2329  Free Call: 1800 642 329
Good Cabins, Glamping Tents and Van Sites available.
This is a Big 4 Caravan Park.
Please book early as there are limited sites available.
Would you please tell them you are with the V.F.G?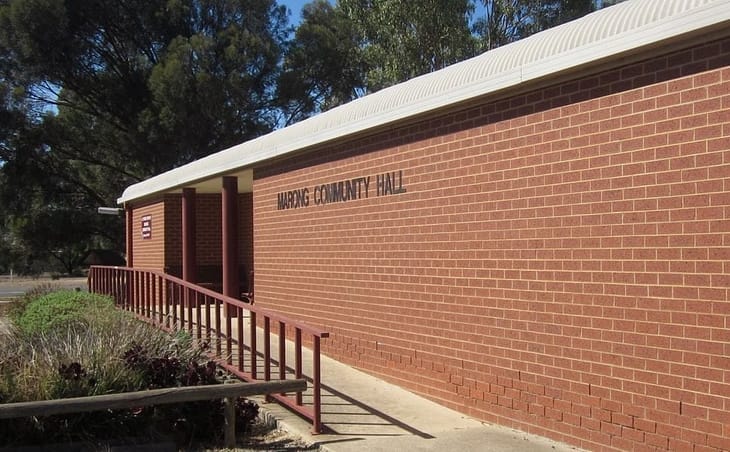 Friday 17th: Arrive and set up at 2 pm. Faceting until 5 pm, then an evening session from 7 pm until 9 pm.
Saturday 18th: Start workshop at 8 am and facet all day until 5 pm. Then our Annual Christmas Dinner will be held at the workshop venue, the Marong Community Hall. Arrive at 6.00 pm for a 6.30 pm start.
Sunday 19th: Start 8 am faceting until 10.30 am when General Meeting starts. After the Meeting, continue faceting till 5.00 pm. The evening faceting session will recommence at 7 pm and run until 9 pm.
Monday 20th: Start 8 am faceting until Noon when we vacate the hall.
WORKSHOP FEES – We charge a Minimal Fee to attend the workshop. See details in the next column!
WORKSHOP FEES – We charge a minimal fee that helps cover the cost of hiring the hall we use for the workshop.  Doing this helps keep the cost of attending a workshop affordable for those who attend.  Plus, we can keep our membership fees low and affordable too.
Fees include tea/coffee refreshments during the workshop.
A Flat Rate Fee of
$5.00 per day, per person.
OR
$15.00 entire period per person.
(Fourth Day is Free!)
Bring everything chair, table, adaptors, power board, 10x, head visor, transfer jig, dops, dopping medium, bucket, tissues, rough material and whatever you need for a good weekend's faceting. Don't forget your mug for a cuppa.
Social Dinner (Saturday 18th)
The annual Christmas Dinner will be held at the Marong Community Hall and starts at 6.00 pm for those attending the Workshop. Our members will put it on at no charge to attendees and comprises of cold meat and salads. 
The evening will include a Kris Kringle, so please bring a small present to the value of $10.00 maximum if wishing to participate, with women buying something suitable for a woman and men for a man.   
Please let us know if you intend to come Christmas Party/Dinner by clicking the BOOK NOW – SOCIAL DINNER button, as we need to know numbers for catering purposes. Don't forget to tell us of any special dietary needs.
Contact Us for further information about this Workshop by clicking this button.
Big 4 Bendigo Marong Holiday Park
BIG4 Bendigo Marong Holiday Park is an ideal location to stay while at Marong for the Faceting Workshop.  The park promises you a warm welcome and an enjoyable stay along with other Victorian Facetors' Group members.
The park owners and their staff look forward to personally welcoming you to Big 4 Bendigo Holiday Park and the historic Goldfields region. The park offers free WIFI and a relaxed holiday park experience in a lovely rural setting.
Enjoy all of the tourist activities in the region, or just relax in the park and make the most of the facilities on offer. The award-winning Marong Family Hotel is just a 300-metre stroll from the park, to cater for all of your lunch and dinner needs.
All sites are located in close proximity to our centrally located amenities, camp kitchen and BBQ facilities.
BIG4 Bendigo Marong Holiday Park, 1449 Calder Highway, Bendigo, 3515
Visitor Information Centre
Bendigo Visitor Information Centre
Freecall: 1800 813 153
Phone: 03 5434 6060
International Dialing: +61 3 5434 6060
Email: [email protected]
Address: 51-67 Pall Mall, Bendigo.
Open every day from 9 am – 5 pm (except Christmas Day) Learn more about the Bendigo Visitor Centre.
Much more than maps and information…
Situated in the historic Post Office, Bendigo Visitor Centre can help you sort out all your needs while you are here, including accommodation, shopping, dining, booking attractions & tours, and provide you visitor information, map and guide books.
They also have quality gifts and souvenirs so it is a must-stop during your Bendigo Visit.  The Visitor Centre opens every day from 9 am to 5 pm (except Christmas Day).
Download the Official Visitor Guide